Our Story
Milligan Bio is a locally-owned Saskatchewan company, based in Foam Lake, SK. Our company was created in 2018 by Eaglepoint Ventures Ltd. with the purpose of creating environmentally safe products to help those in the industrial and agricultural sectors fight even the toughest problems. At Milligan Bio, we process whole canola seed, sourced from canola growers across the prairie provinces.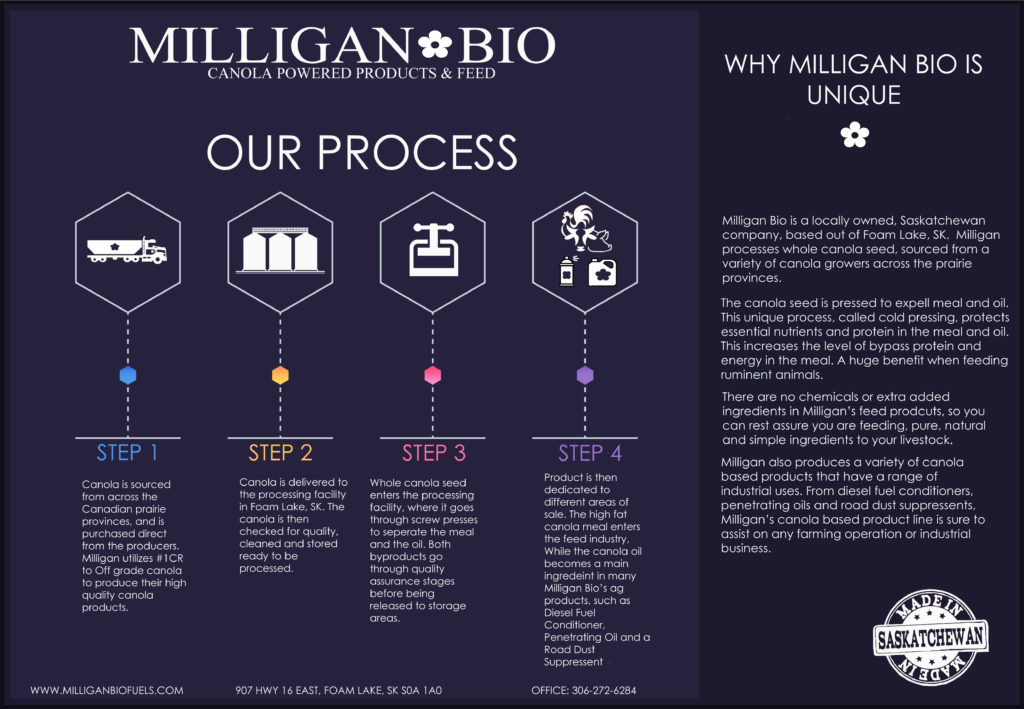 Meet Our Team
Controller of Finance & Sales
Marlene Milligan
Marlene brings 30 years of experience to the Milligan Bio team through her experience in the oil and gas industry specializing in procurements, logistics, shipping & receiving, sales, payroll, and accounting. Marlene's experience includes working for multinational companies, midsized companies, and a personal family business. Marlene's education qualifications include a Diploma in Business Administration and Accounting, Certified Payroll Compliance Management & Distribution, and Logistics Management.
Marlene has provided her expertise to Milligan Bio since 2018 as the Controller of Finance and Sales. She works closely within all areas of Milligan Bio's team from Management, Purchasing, Sales, Production, and Logistics, bringing enthusiasm to the team.
Marlene believes in the company's products and what they have to offer in the agriculture and industrial industries. She is beyond excited when a successful cold call turns into a sale and long-term customer relationship.
In Marlene's spare time, you can find her mucking stalls or lunging at her daughter's equine facility, cleaning the family business' truck, or spending quality time with her grandchildren.
Administrative Assistant
Bailey Greziuk
Bailey has been with Milligan Bio since January 2020. She is the first friendly voice you hear when you call or see when you walk into the Milligan Bio office.
Bailey assists with the day-to-day administrative duties and provides support to all departments; shipping and receiving of bulk loads, logistics, sales, and keeping all departments informed and organized.
Bailey's background and love of agriculture, combined with her prior experience in finance and health care, make her a great asset to the Milligan Bio team! She enjoys working in the agriculture industry and providing solutions for farmers when the storage of their canola does not go as planned.
Bailey grew up on a mixed farming operation, and now grain farms with her husband. In her spare time, you can find Bailey at the lake in the summer, snowmobiling in the winter or spending quality time with her family.
Shipping & Receiving
Brenda Casement
Brenda has been with Milligan Bio since February 2020. Brenda takes care of the day-to-day packaging, shipping, and receiving of Milligan's co-products and operations supplies. Brenda's acute attention to detail makes her a great fit on the Milligan Bio Team!
Maintenance Manager
Lorne Melsted
Yard Foreman
Tim Stocker
Tim has been with the company since June 2018 and previously was employed with former Milligan Bio operations for 6 years. Tim oversees all bulk deliveries of canola, loading bulk shipments of meal and oil and inventory management.
Tim enjoys working outside, and his charismatic attitude brings a light atmosphere to the workplace. Tim's favourite part of working at Milligan Bio is the conversations and meetings with the truck drivers/farmers. As a former business owner, Tim understands the management duties involved in the business. He handles his team efficiently and works well with other members of the Milligan Bio!
When Tim isn't climbing bins or loading and unloading trucks, you can find him in the rink during winter, and on his pontoon boat touring the lake in the summer. Tim also enjoys spending time with his family.