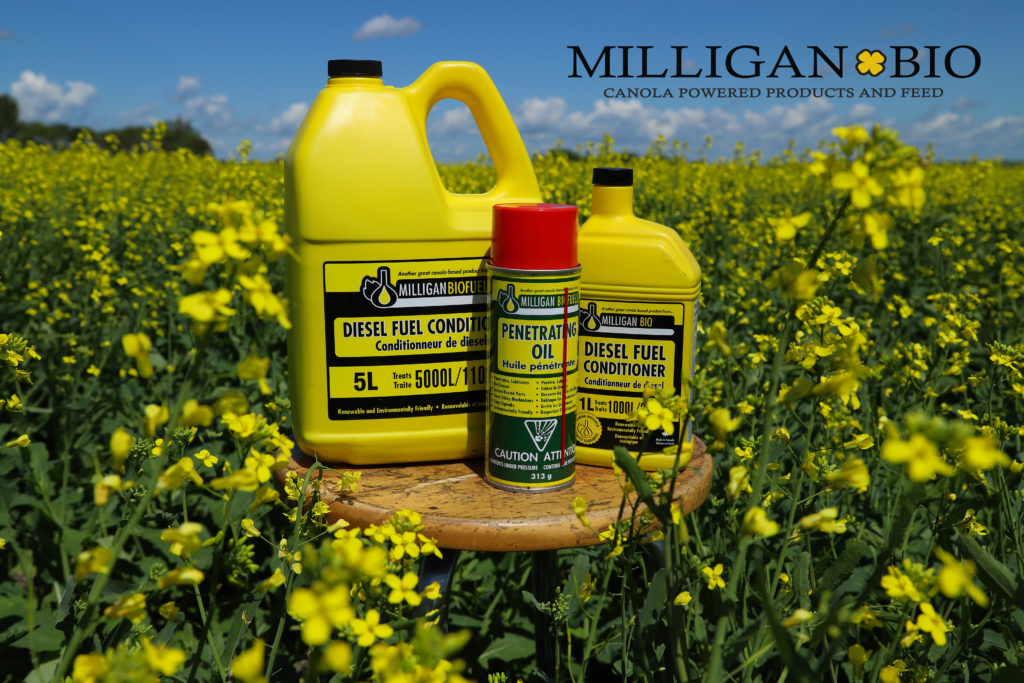 Our Process
Our products are made by using a unique process called cold pressing. It presses canola seed to expel meal and oil to protect essential nutrients and proteins. This increases the level of bypass protein and energy in the meal, which is a major benefit when feeding ruminant animals.
Milligan Bio not only creates great feed products but also environmentally friendly products for industrial and agricultural use. All products are canola-based and environmentally friendly.
---
Products
Diesel Fuel Conditioner (D.F.C)
Available in 1 L, 5 L, 20 L pail
Milligan Bio's Diesel Fuel Conditioner (DFC) is a one-of-a-kind, highly effective treatment that increases lubricity, cleans injectors, and improves fuel economy.
Benefits:
Made from a renewable source & is environmentally friendly.
Improved lubricity can bring up to a 10% increase in fuel economy.
Reduces friction caused by low sulfur diesel up to 40% reduction in engine wear.
Cleans injectors and improves starting.
Reduces smoke and emissions.
One-of-a-kind canola-based additive.
Meets ultra-low sulfur regulations.
Has a cetane number more than 10 points above diesel fuel.
Natural solvent properties aid in the removal of particulates that may build up in the engine from the use of low sulphur fuels.
Performs as a stable equipment protector.
Add Milligan's DFC to your diesel engine
Spend less money on maintenance and fuel
The result, less equipment downtime, and more money in your pocket!
---
Penetrating Oil (Pen.Oil)
Available in 313g aerosol cans
Milligan Bio's Pen Oil gives you the best of both worlds, it is non-toxic, fume-free but tough on rust and grease. It can be used anywhere that lubrication is needed or corrosion is a problem. The uses are endless, from the shop to the house!
Benefits:
Prevent rust
Lubricate
Penetrates grease and corrosion
Loosen rusted parts
Stops squeaks
Environmentally friendly
Non-toxic and Fume Free
Use On:
Boats & Marine Equipment
Farm Equipment
Lawn Care equipment
In situations where fumes could be hazardous
Areas prone to Corrosion and rust
Areas where metal is rubbing together
And much more!
---
Asphalt Release Agent (A.R.A)
Available in 5 L, 20 L pail, 1,000 L tote 
Milligan Asphalt Release Agent (ARA) prevents asphalt, sealant, tar, and oil build-up on paving equipment. Asphalt Release Agent is an excellent replacement for traditional products that are harmful to the environment. It provides heavy-duty performance while being suitable for use in all paving situations. By following the recommended rates and application procedure, ARA is often required in less volume than that of other products available in the marketplace.
Benefits:
Prevents stick-on asphalt
Used as a pre-coat
Reduces build-up
Environmentally friendly
Use On:
Rollers
Truck beds
Tools
And much more!
Application:
The recommended application procedure requires using a hand-held pump and spray wand system. Coating of equipment with Asphalt Release Agent prior to use and as required during use will deliver the best results. In the case of over-application or spill of ARA, water must be used to wash/dilute the product to prevent asphalt breakdown or degradation.
---
Rust Inhibitor (R.I)
Available in 5 L, 20 L pail, 1,000 L tote 
Milligan's Rust Inhibitor is a heavy-duty liquid for removing rust and keeping it off. Our product is easy to use, non-toxic and biodegradable so it is gentle on the environment.
Benefits:
Environmentally friendly
Non-toxic
Biodegradable
Removes rust
Keeps rust off
Safe on industrial, agricultural, and consumer products
Use On:
Lawn care equipment – try it on the underside of your lawn mower to keep grass from sticking
Vehicles
Agricultural and road maintenance equipment
Tools
Yard machinery
And much more!
Application:
Quick and easy to use, apply Milligan's Rust Inhibitor and wipe off dirt, grease, grime, and rust. Then apply a generous coating to keep them from coming back. Safe for use on all metal surfaces and environmentally responsible! 
*Please avoid long-term contact with rubber and painted surfaces* 
---
Road Dust Suppressant (R.D.S)
Available in 20 L pail, 1,000 L tote or bulk
Dust emissions from unpaved roads can impair the vision of drivers and be a safety hazard. From a road agency perspective, the loss of fine particles from unpaved roads can reduce surface longevity and increase maintenance costs. Dust can also have environmental and economic implications, like reduced crop yields. 
Milligan Dust Suppressant adheres to surfaces, physically binding fine particles together to increase particle mass and cohesion. An environmentally sound alternative to chloride salt products and petroleum-based suppressants. Dust Suppressant enhances the cohesive properties of road aggregate, which can assist road-bearing capacity. Dust Suppressant will increase surface tension and repel water allowing the road surface to drain quickly after heavy downpours. This firmer, more stable, dust-free road surface resulting from treatment with Milligan Dust Suppressant reduces the need for frequent road repair and ongoing grading. 
Benefits:
Environmentally friendly
Alternative to chloride salt products
Alternative to petroleum-based suppressants
Improves driving safety
Reduces inhalation health hazards
Safe and easy to use
Non-corrosive
Non-flammable
Non-volatile
No groundwater pollution
No diluting or mixing needed
Use On:
Public roads
Mining roads
Mine sites
Forestry roads
Oilfield roads
Heavy haul roads
Gravel pit roads
Recreational areas
Lake resorts
Golf course paths
Traffic assembly
Parking areas
And much more!
---
For more information or to order any co-products contact us!